The Food Assembly's vision is to create a better way to eat, where everyone has access to the pleasure of local food, and is connected to the people who make it.

Community is at the heart of The Food Assembly – we connect neighbours to farmers, neighbours to each other, and everyone to their food.

Starting in France, and now a movement across Europe, we believe in value-led innovation and are constantly seeking to sharpen our tool that connects people to local food producers.

Bringing power back to producers and consumers, our vision is a world with shorter supply chains where people connect to their food in a better way. By combining technology and sustainable agriculture, our vision is to support a healthier world where everyone can thrive.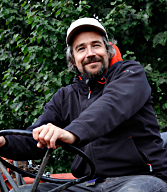 « Agriculture is an industry that has run out of steam: it needs to be reinvented and relocalised by giving the power back to the consumer and food producer. We dream of an agricultural economy generating employment, social and environmental wellbeing – a paradigm shift that enables everyone to say Yes to Local! »

Guilhem Chéron, co-founder of The Food Assembly
Our missions
Empower people in creating a better way to eat, by enabling farm-to-neighbourhood access to fresh local food.
Create the tools that enable producers to sell directly to consumers.
Give access to local, fresh, quality food to as many people as possible.
To support the ecological and economic transition to a better, sustainable future.
Support the growth of meaningful, fairly-paid jobs in the food and agricultural sector.
Revalue food and its role in fostering community and wellbeing.
The values that drive us
1. Transparency
The Food Assembly enables everyone to know where their food comes from. By putting the producer at the heart of our model, we enable producers to set their own prices, ensuring that they are remunerated in a fair way. All producers receive 80% of their goods sold. The rest is split between The Food Assembly and the local Host.

It's this transparency that inspires cooperation, and we care deeply about taking the time to share our aims, plans and ideas with our Network.
2. Cooperation
Cooperation is the collective heartbeat of The Food Assembly. Everyday, we harvest and nourish this cooperation within our Network, by sharing questions, concerns and ideas for moving forward. Being decentralised, it takes our collective Network to succeed, and to build trust and give the autonomy to those that work in the field.
3. Transition
Through The Food Assembly's activity, we bring thousands of producers and citizens together, which links to the transition of finding new ways of producing and consuming food.

As a company, we wish to be an economic, environmental, and social asset in the communities where we operate, connecting people together and helping them achieve more than they could alone.
4. Entrepreneurship
We believe in the capacity of entrepreneurship to serve the public interest. The entrepreneurial spirit must seek the common good, and put the social and environmental success on par with economic success.
5. Creativity
It is difficult to find new solutions with old ideas. Through creativity, we design new solutions to the challenging problems facing food production. Innovation is key to the success of creating a better food system for everyone, and is at the heart of The Food Assembly's mission.